FAQ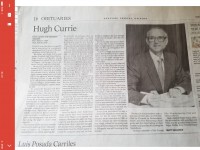 What Are My Obit Options?
You may want to write your own obituary ahead of time and save it to be published on the Obit Options website when it is needed.​ That way the obituary will be ready for newspaper publication and funeral home use when the time comes.​ Most importantly, your obituary will be written the way you want it.
Another option is to prepare a life story for you or a family member and publish it now.​ This would make a wonderful gift for a birthday, anniversary, Mother's or Father's day.​ We can write the story for you or it could be written in the words of your loved one.​ This is a way to leavea legacy for your family.​ Many times, after a parent or grandparent is gone, we wish we had asked more questions, learned more about the life they lived before we knew them.
We also offer a page for family members or friends to write a tribute to a loved one.​ We will also write or help you with a tribute to a beloved pet. 
You may need a eulogy written and we can write one for you.
What if I need an obit prepared right away?
Obit Options will write or edit an obituary for your family member when you need it quickly
How long will an obit appear on the Obit Options website?
The obituary will remain on the obituary page as long as space permits, then will be transferred to an archives page.​  A life story will be posted on and remain on the life story page.
What if I want an obituary or life story prepared but do not want it to appear on the Obit Options website?
No problem.
Will I have to pay for each day the obit, life story, eulogy, or tribute, appears on the website?
No, your one time payment covers everything, even corrections, unless those corrections are massive and require a major revision.​ 
Will I pay more to include a photo?
No, a photo can be included at no extra charge.
Will I be charged sales tax?
Only if you submit video to include with your obit or life story.
Do you accept obituaries only from  the Kingsport, Tenn.​ area?
No matter where you live,  you are welcome to submit an obituary or life story to Obit Options.
Will ads appear on the Obit Options website?
Absolutely not.​